On-Demand Webinar
On-Demand Webinar: Transforming Funeral Home Workflows with Electronic Signatures
Learn from SMB Leaders On the Front Lines
Funeral directors understand that nothing can replace the comfort and closure that face-to-face consultations provided families. At the same, they also understand that families are looking for the same type of quick and easy transactional experience they have grown accustomed to thanks to Amazon, Netflix and other low touch, high convenience mobile and digital services.
In this free webinar, Jennifer Royer of DocuSign will show how Adobe Creek Funeral Home and Cremation Center in Petaluma, California, was able to transform its cremation authorization request process by using DocuSign, which replaces printing, faxing, scanning and overnighting documents with the easiest, fastest, most trusted way to make every approval and decision digital.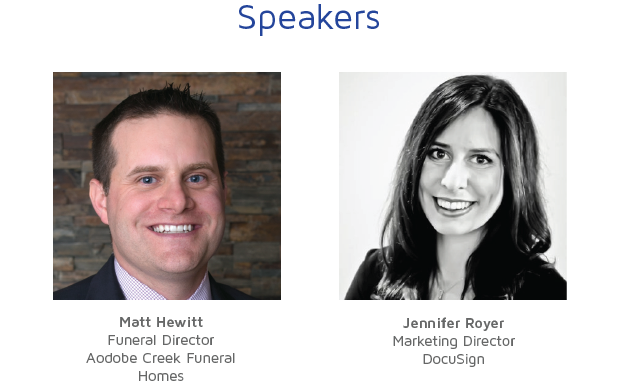 Using Adobe Creek as a case study, you will learn what digital transaction management is, and how leveraging an electronic digital platform can help funeral homes run their businesses more efficiently and better serve their customers. You'll get tips for getting started with electronic signatures and digital transaction management.